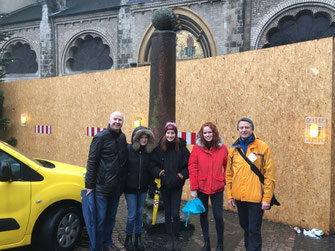 We enjoyed very much our visit in Bonn, a city that we did not know much about before, except that it was the capital of BRD.
It was easy to find a car park and meet Jürgen. We decided together how to proceed through the city - all walking areas, which is nice. The kids enjoyed it as well.
Even though German is not our mother tongue, I asked that the tour be conducted in German. We appreciated that Jürgen made his German easy for us. So, in a nutshell, we got a tour and a german class at the same time: Well Done!
I cannot think of anything that could have been better, except maybe the weather :-) 
Joachim Meis & Family, Wolwelange, Luxumburg
---
Jürgen hat mir und meinem Freund Sebastian in 3 Stunden eine tolle, abwechslungsreiche und interessante Stadtführung gegeben mit informativen historischen Einblicken entlang der Stadtmauer. Er war sehr nett, spontan und wir haben die Zeit sehr genossen. Wir würden es jederzeit wieder buchen!
Tamara Scheidt, Salzburg, Austria
12.2017
---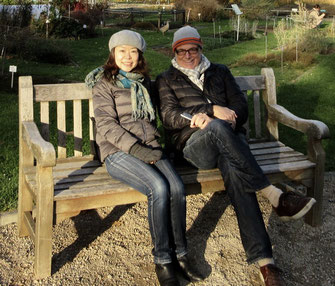 It turned out to be an unforgettable day, in large part due to my greeter Matthias. I really enjoyed walking the beautiful streets of Bonn, listening to stories about the history of the city. It was nice to walk through the pretty botanical gardens with the fall leaves, and having a cup of cappuccino and a piece of cake in a cafe along with local people. 
At the Rhein river, I could feel the connection to Belgium and all the way to the Netherlands.
Now, because of Bonn Greeters, I feel I have much more of a connection to this beautiful city Bonn. I would love to come back here again someday soon. Thanks a lot!!
Eriko Matsukawa, Fukuoka, Japan
11.2017
---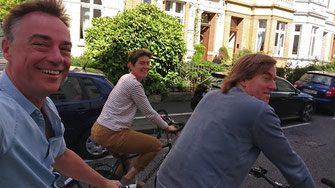 Great greet with Doris and Steffen. Bonn by bike is a great experience.
Ole Kassow, Denmark
11.2017
---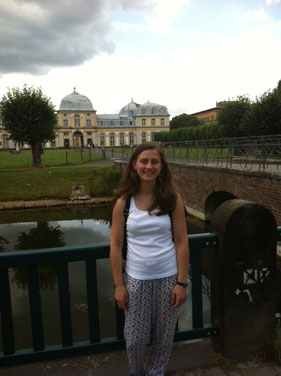 Ich habe die wunderbare Bonner Südstadt kennengelernt. Sybille meine Greeterin hat mich durch einige Straßen geführt und  meinen Fokus auf die schön verzierten Fassaden der Häuser dort gelenkt. Zwischendurch haben wir in einem Cafe Halt gemacht und uns dabei nett unterhalten.
Dank Sybille war es eine individuelle, persönliche Stadtführung, die mir sehr gut gefallen hat!
Alina Glomp, Unna
07.2017
---
We really enjoyed greet of Olga in Bonn. She introduced not only the history and culture, but also the daily life of the city and its people. We walked around the city, being told about meaningful events and traditions, which influenced its development and habits of its citizens. For example, we got to know that during the opening ceremony of Beethoven monument, the queen was at the balcony of the post office. Such way the musician's monument was turned to the royal majesty with his back. The queen made a joke about this, saying that standing with his back to her was very likely for the musician's temper. And of course, we discovered lots of more interesting things about Bonn with Olga.
Tatiana Rumiantseva, Russia
06.2017
---
Wir hatten im Vorgespräch mit Frau Starck den Wunsch geäußert, wir würden gerne Friedhöfe sehen. Sie war sehr erstaunt, hat uns dann aber auf unserem Spaziergang so viele interessante "Friedhöfe" in die Sie sich rein gelesen hat, und dadurch auch für Sie Neues erfahren. Auf diese Weise sind wir an Orte gekommen wo wir sonst achtlos vorbei gelaufen wären. Auch haben wir durch sie Tipps bekommen und so ein tolles Wochenende im schönen Bonn verlebt. Wir haben den höchsten Kaffee mit Ausblick bei Traumwetter gehabt, am Samstag eine kleine Orgelführung-Erklärung-,und konnten Ihr aber auch noch einen tollen Restaurant Tip geben, den Sie noch nicht kannte.
Fazit :einfach SPITZE ,jederzeit wieder.
Danke!
Ralf Gerke, Delmenhorst
05.2017
---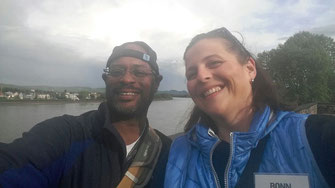 Shout out to Bonn Greeters and especially Milka Sajic. Milka was a great guide sharing her knowledge, insight and anecdotes on the history & culture of Bonn. If you visit I highly recommend contacting them.
Chuck Morre, Ashburn, USA 
05.2017
---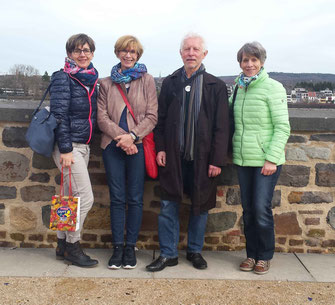 Unser Greeter Wolfgang hat mir und meinen beiden Schwestern bei unserem Bonn Wochenende sehr kenntnisreich, engagiert und sympathisch die Sehenswürdigkeiten nahegebracht. Er war offen für unsere eigenen Vorstellungen und Fragen. Die Führung hat uns großen Spaß gemacht.
Brigitte, Martina & Petra, Berlin
03.2017 
---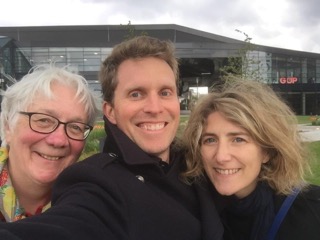 Wir waren zu zweit mit Christine durch Bonn unterwegs. Trotz kühlem, windigen Wetter war es ein sehr kurzweiliger, schöner Nachmittag. Christine hat uns auf eine Tour u.a. entlang Universität, Rhein, Beethoven Geburtshaus genommen sowie mehrere interessante Hidden Gems. Lohnenswert war auch der Ausflug zu UNO und Conference Center... Vielen Dank nochmals an Christine, die eine sehr angenehme, motivierte Stadtführerin war.
Jens & Hélène, Zurich
04.2017
---